Thinking of adding Bergen County Decks to your home? A deck can be a great addition to your backyard. Whether you need a Bergen County kitchen remodeling or a new deck in your yard, we can make it happen. There are many different benefits to adding a deck to your home.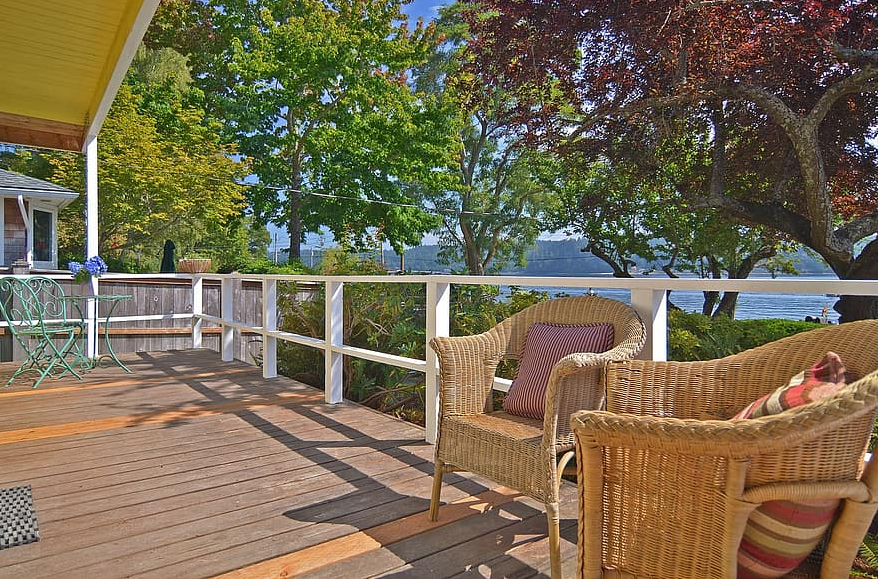 Bergen County Decks | Safety
One of the most important reasons to add a deck to your home is safety. When stepping out into your backyard, you can feel safe at stepping out onto your deck instead of a muddy yard. A deck can provide an area for peace and quiet. It can be an escape. You can go outside and lounge with a warm cup of coffee and relax. It is a great place to gather with friends and family.
Bergen County Decks | Increase the Value of Your Home
Adding a deck to your home by a professional expert will add value to your home. With the addition of a deck it will raise the resale value when it is time to sell your home. A deck will add more livable space. You will now have additional space to work and enjoy family time outdoors. You now will have a bigger area to store outdoor items as well. A deck can be as custom made as you want. Some of the features that can be added to a deck can be lights, outlets and planters, you can make it as unique as possible. Decks provide a clean outdoor space for family and friends to enjoy.
Bergen County Decks | Added Functionality
A deck or patio gives a homeowner more functionality to their outdoor living space. You can now use it all year round. You can even grill in the winter months since the grill can be on the patio and closer to a door. If you like cooking outdoors, adding a roof above your deck can also allow you to go outdoors and stay outdoors even if it is raining. There are many different ways to make your yard beautiful. You can add gardens, privacy fences, decks and patios. A nicely finished wood deck will make your yard a paradise. This could be your place to unwind and relax in your favorite lounge chair. You can sit early in the morning with your cup of coffee enjoying the birds and all the beauty around.
Bergen County Decks | Enjoyment
A deck can be lots of fun, too. You, your family and friends can enjoy playing games together. Listening to some music and eating a great meal outdoors. You can have all the comforts of your home outside as well as inside. It is great living with a new deck added to your home. Consulting a professional to design and build a great deck on your home is important. You can have them build it in the front or back or your home or both. Some homeowners believe they can build it themselves, but hiring a professional contractor is best. They are knowledgeable and they know how to prevent issues from happening. They can save you money and time since they have all the necessary tools to build one. With their experience and expertise, all you have to do is describe what you want, and they will make it happen.
Searching for the best Bergen County Decks company? Jun's Pro Services is the place to call! Jun's Pro Services is a family owned and operated company. We do all exterior and interior renovations. Our projects are completed only when the customers are completely satisfied with the work done. Give us a call for a free estimate. We will create the outdoor deck of your dreams and make your yard a paradise right in your home.
Bergen County Kitchen Remodeling
Passaic County Kitchen Remodeling
Passaic County Basement Remodeling
Union County Mold Removal Contractor
Does Your Attic Need Additional Ventilation?
Duke University Students Raise Concerns About Toxic Mold
Choosing Moisture-Resistant Building Materials for Your Home
How Can Mold Affect Your Home's Resale Value?
Common Causes of Household Mold
Preventing Moisture From Penetrating Your Home's Exterior
Beware of Mold Following a Flood
Four Reasons to Keep Your Roof Clean
Common Symptoms of Toxic Mold Exposure
Is it Time to Update Your Home's Plumbing?
Spring Moisture Mitigation Checklist
Is it Time to Update Your Home's Plumbing?
5 Ways to Minimize Moisture in Your Basement
Roof Repair and Cleaning – Make Sure You're Protected
Health Risks Associated with Household Mold
Mold versus Mildew: Understanding the Difference
Venting About Vents: Now's the Time to Check!
Get Rid of Mold for Good with Professional Mold Remediation
Middlesex County Basement Wall Crack Sealing
Middlesex County Mold Consulting
Union County Basement Wall Crack Sealing
Middlesex County Exterior Renovation
Union County Exterior Renovations