Mold can grow pretty much anywhere in your home, especially places that have a lot of moisture. One of the most susceptible places is the basement. Basements tend to have more humidity, which make them prone to mold. People use them for storage a lot of the time. Poorly ventilated, overstuffed basements do not let air to flow freely through the space, and plastic bins also attract moisture. Any or all of these elements alone are enough to attract mold growth. When you also factor in a crack in the exterior walls, you really have great conditions for mold. Cracks allow water to seep in, creating more moisture. If your basement is damp and humid and causing mold growth, you need the services of a Middlesex County basement mold removal specialist. To repair cracks which are making the condition worse, contact a Middlesex County basement wall crack sealing professional today.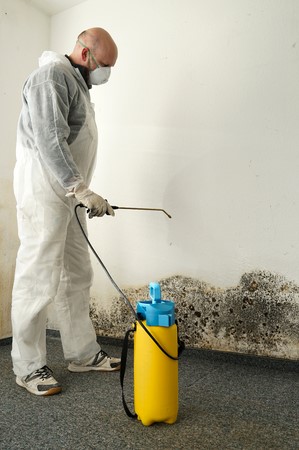 Middlesex County Basement Wall Crack Sealing | Signs of Wall Damage
Homeowners should walk around the outside of the home to regularly check for signs of structural damage to exterior basement walls. The sooner you catch and repair a crack or leak, the less extensive the damage. Look for obvious cracks, or fractures that can become cracks if left unrepaired. Look for water stains where runoff is collecting at the basement wall. Don't overlook clogged gutters, sometimes they can cause water to flow along exterior walls, and puddle at ground level. Inspect for honeycombed or pitted concrete. This pitting can create holes that let in water. If you see any of these exterior signs, call a professional before they let water in and create mold growth.
Middlesex County Basement Wall Crack Sealing | Basement Flooding
The worst case scenario is an exterior crack letting in so much water that the basement floods. If this happens to your home, don't delay. Call a professional right away. Basement flooding is as stressful as it is unpleasant. You need a professional service to take care of the problem for you. They are experienced and can remove water quickly and thoroughly. Basement specialists have powerful dehumidifiers to fully remove all the moisture and humidity. Call a company that can remove the excess water, dry the area, and remove any mold. For all these services in one, you need a mold remediation company.
Middlesex County Basement Wall Crack Sealing | Mold Remediation
Mold remediation is the complete process of removal, restoration and prevention. A remediation company has the equipment and expertise to safely and completely remove excess water from the property. They can also safely remove all the mold with the help of HEPA filters, and necessary gear. But this is not all they do, they also repair any structural problems creating the leak. When you have a leak causing any mold, or worse, flooding, do the job completely. Get rid of the resulting problem, but also fix the cause, and repair any wall cracks and water seal your basement.
Basements are prone to mold, but more so if a crack in the wall is allowing excess water or moisture in. If you suspect there is mold growing due to a crack in your basement wall, call a remediation specialist. They can safely remove excess moisture, remove mold, and even more importantly, fix any structural problems. Sealing any basement cracks is important to prevent a repeat event. Hiring a professional is always a good idea, you get immediate help, and they have the necessary training and equipment. For complete water and mold removal, and to repair and seal cracks, call a Middlesex County basement wall crack sealing company.
Union County Mold Removal Contractor
Does Your Attic Need Additional Ventilation?
Duke University Students Raise Concerns About Toxic Mold
Choosing Moisture-Resistant Building Materials for Your Home
How Can Mold Affect Your Home's Resale Value?
Common Causes of Household Mold
Preventing Moisture From Penetrating Your Home's Exterior
Beware of Mold Following a Flood
Four Reasons to Keep Your Roof Clean
Common Symptoms of Toxic Mold Exposure
Is it Time to Update Your Home's Plumbing?
Spring Moisture Mitigation Checklist
Is it Time to Update Your Home's Plumbing?
5 Ways to Minimize Moisture in Your Basement
Roof Repair and Cleaning – Make Sure You're Protected
Health Risks Associated with Household Mold
Mold versus Mildew: Understanding the Difference
Venting About Vents: Now's the Time to Check!
Get Rid of Mold for Good with Professional Mold Remediation