Middlesex County Basement Mold Removal. Seeing some issues in your basement where mold may have to be removed? You need Middlesex County mold removal services.The most common place to see extensive mold issues is usually in the basement of a home. In older homes many of the basements start showing some cracking in the foundation if not kept up. The musty smell in a moldy basement is not only unpleasant but a serious health hazard to you and your family. If you think mold is growing in your basement it is best to have a professional mold removal company come in and inspect the home to be able to remove it as quickly as possible. Mold is toxic and can produce respiratory and other health issues. There are many reasons why you may have mold growing in your home. These are just a few.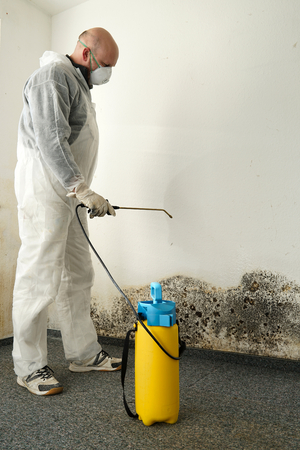 Middlesex County Basement Mold Removal | Health Hazard
Prolong exposure to indoor mold found in a basement can definitely lead to upper respiratory issues as coughs, wheezing and asthma symptoms. When someone already has allergies or has been diagnosed with COPD or any other asthma disorder, growing mold will just aggravate it further. These molds can come from leaking and mildew built-up in the wall. If there has been a leak from a pipe or other water issue, it should be dried up and cleaned up as soon as possible to prevent mold growth.
Middlesex County Basement Mold Removal | Mold Assessment
Having a professional look at your home and inspect it for mold will give the homeowner peace of mind to know that they will get a proper mold assessment. You need to discover the source of where the mold is coming from and then find the problem areas and get a good quality cleaning that removes mold for good.
Middlesex County Basement Mold Removal | Treatment
When you have found the right professional house cleaning company to remove the mold in your basement, they can properly treat the issue to prevent it from coming back. They will properly clean the area and treat it, to keep you home clean of any future mold. A seasoned professional will be able to truly identify the problem area and properly educate the homeowner as to how to stop the problem from occurring again.
Middlesex County Basement Mold Removal | Prevent for the Future
When hiring an experienced mold removal specialist, you will receive tips on how to prevent future mold in the basement or anywhere else in the home. You also want to find a dependable and honest mold removal company. Every home has different reasons why mold is growing, it could be leaky pipes, roofs and they should all be fixed to guarantee mold won't continue building up. The longer a homeowner waits to handle a problem with mold, the costlier the complication is going to get. By making sure the mold problems affecting your family's air quality are completely eliminated, you will save money in the long run since the bacteria and mold growth will not spread or get worse.
Searching for the best Middlesex County Basement Mold Removal company? Look no further and contact Jun's Mold Remediation. Jun's Mold Remediation uses the latest technology to detect moisture sources feeding the growth of the mold. Once we have found it, we are able to restore any damage to drywall, subfloors, and any other compromised by the water damage or the mold. This includes carpeting and painting. Keep your home's environment in prefect shape by eliminating harmful toxins that threaten the healthy atmosphere you want for yourself and your family. To schedule an appointment, please contact us today.
Union County Mold Removal Contractor
Berkeley Heights Mold Remediation
Does Your Attic Need Additional Ventilation?
Duke University Students Raise Concerns About Toxic Mold
Choosing Moisture-Resistant Building Materials for Your Home
How Can Mold Affect Your Home's Resale Value?
Common Causes of Household Mold
Preventing Moisture From Penetrating Your Home's Exterior
Beware of Mold Following a Flood
Four Reasons to Keep Your Roof Clean
Common Symptoms of Toxic Mold Exposure
Is it Time to Update Your Home's Plumbing?
Spring Moisture Mitigation Checklist
Is it Time to Update Your Home's Plumbing?
5 Ways to Minimize Moisture in Your Basement
Roof Repair and Cleaning – Make Sure You're Protected
Health Risks Associated with Household Mold
Mold versus Mildew: Understanding the Difference
Venting About Vents: Now's the Time to Check!
Get Rid of Mold for Good with Professional Mold Remediation