NJ Mold Remediation
We Remove the Mold & Fix the Cause!
Jun's Mold Remediation is the most trusted NJ Mold Remediation companies. Jun's is a one stop shop for all your mold remediation needs. We are much more than a typical mold removal company. As one of NJ's largest roofing companies, we are fully licensed to identify the cause of the mold and remedy the problem before remediating the mold. If you have an attic ventilation problem, a gutter problem, a roof leak, cracks in your foundation walls or improper drainage systems we are able to fix the problem to prevent the mold from ever coming back. Your typical mold remediation company is only able to remove the mold from your home. They are not licensed to remedy the cause of the mold which will inevitably lead to the mold coming back. The only way to permanently remove mold from your home is to correct problem that caused the mold in the first place. Mold thrives on moisture. You must fix the source of any moisture quickly. Don't pay a mold company to remediate mold that's just going to come back! Trust Jun's Mold Remediation for all your mold remediation needs. We identify the cause of the mold, fix the problem so it doesn't come back and remove the mold for good! We provide many services along with our mold remediation.
Some of Our NJ Mold Remediation Services Include:
---
NJ Mold Remediation | Premier Mold Remediation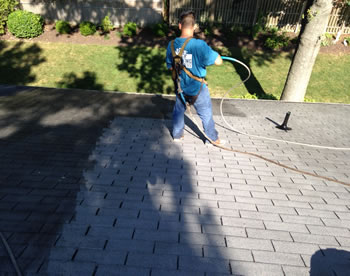 You have found New Jersey's premier mold remediation, roof cleaning, and repair expert... Jun's Mold Remediation - Roof Cleaning and Repairs. Since you are determined to protect your most expensive investment we are here to resolve your roofing problems. The truth to what is happening to your roof is that the stains are being cause by algae, moss, and lichens growing on top of the roof shingles. You didn't do anything wrong, this just happens due to the type of environment in this section of the country. There is good and bad news. The bad news is that the algae, moss, and lichens left unattended will physically damage the integrity of the shingle and decrease the life expectancy of your roof system.
The good news is that there is something you can do to fix the problem of the algae growth and subsequent damage without replacing your roof and without damaging your shingles by the cleaning process. Take Action Now! Contact Jun's Mold Remediation - Roof Cleaning and Repairs located in Piscataway, New Jersey and schedule your free estimate.