Have you been thinking of getting Union County Fences installed? When it comes to a home property, there is no better thing to add than a fence. A professional services team can add a fence of wood, vinyl or metal. There are numerous different styles of fences in the market. Fences can be functional, and it can add beauty to a home. Here are a few benefits of adding a fence to your home's property.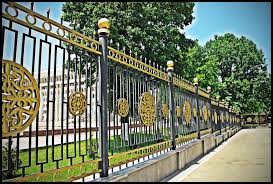 Union County Fences | Privacy
A fence adds privacy to your home. If you have close by neighbors and would like to sit outside in private, a fence helps. Your backyard should be a place to be able to sit or lay down and relax without interruptions. A fence will provide a feeling of solitude. Privacy is one of the most important things everyone that purchases a home think about. Different types of fences provide different types of privacy. As a result, your backyard can be turned into your own private park for you and your family. Certain types of fences will protect your pets from people waking by. Vinyl fences also prevent the dog to have unnecessary barking at the neighbors.
Union County Fences | Security
With a fence around your home's property it can keep people off your property. It will protect your family and pets on the property. One of the main reasons why homeowners have fences installed in their home, is for security. A fence can protect you and your family from intruders. With a high enough fence, unwanted intruders are unable to enter your home easily. The installation of a fence around your property can also come in handy for homes in areas where there are wildlife reserves. As a result, it will prevent wild animals from entering your property and causing harm to you or your family. The peace of mind a fence gives a homeowner is worth it all. With a fence, you can protect your children from wandering outside of your home and getting hurt.
Union County Fences | Increased Home Value
A beautiful and attractive fence around your property can be visually appealing. A fence can be as simple or as elaborate as your desire. With a professionally constructed fence you can upgrade your property. Your home's value will increase with a fence surrounding your property. A fence is an important investment. When the time comes to sell your home, a fence will make it more desirable and therefore, sell quicker and at a price your desire.
Union County Fences | Reduce Noise
Homes that are located near busy streets can have the noise reduced with a good fence installed. If you are wanting to sit under your favorite tree and read a good book or listen to the birds sing, a solid fence will allow you to enjoy the quieter outdoors. Different style fences have different ability to deflect sound. A high privacy fence with no gaps will effectively reduce noise more than a chain link fence. Some fences no matter how high they are, will not reduce noise because of its style.
Searching for the best Union County Fences? Contact Jun's Pro Services. We are a family owned and operated company. Our staff is knowledgeable to answer all your questions. Our ultimate goal has always been to put honesty and the needs of our customers ahead of everything. We do all exterior and interior renovations. Our project is complete once the customer is satisfied with the work. Give us a call at 732-562-1400 for a free estimate of what you want done to your home. Call us so that we can add a beautiful fence to your home!
Union County Mold Removal Contractor
Does Your Attic Need Additional Ventilation?
Duke University Students Raise Concerns About Toxic Mold
Choosing Moisture-Resistant Building Materials for Your Home
How Can Mold Affect Your Home's Resale Value?
Common Causes of Household Mold
Preventing Moisture From Penetrating Your Home's Exterior
Beware of Mold Following a Flood
Four Reasons to Keep Your Roof Clean
Common Symptoms of Toxic Mold Exposure
Is it Time to Update Your Home's Plumbing?
Spring Moisture Mitigation Checklist
Is it Time to Update Your Home's Plumbing?
5 Ways to Minimize Moisture in Your Basement
Roof Repair and Cleaning – Make Sure You're Protected
Health Risks Associated with Household Mold
Mold versus Mildew: Understanding the Difference
Venting About Vents: Now's the Time to Check!
Get Rid of Mold for Good with Professional Mold Remediation
Middlesex County Basement Wall Crack Sealing
Middlesex County Mold Consulting
Union County Basement Wall Crack Sealing
Middlesex County Exterior Renovation
Union County Exterior Renovations