With the warmer weather comes more time spent in your yard enjoying barbecues and the company of friends and family. So, of course you want your yard to look its best at all times. If your property could use a makeover this summer, consider landscaping that you will be able to enjoy for years to come. Improving your yard by adding hardscaping adds value and beautiful curb appeal to your property. Hardscaping retains its value as it is a durable long lasting addition to your yard, and is low maintenance. When you want features like patios, walls, or pool areas a Middlesex County hardscapes professional can transform your property. Professional contractors can also transform the look of your driveway and walkways. This summer, you can get the perfect, idyllic backyard oasis you have always dreamed of. For more information about hardscaping your property, call a Middlesex County exterior renovation company.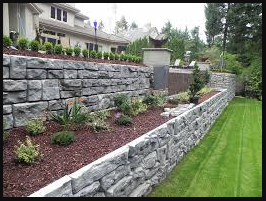 Middlesex County Exterior Renovation | Hard Surfaces
Hard surfaces such as patios, or paved or stone areas around pools make beautiful spaces for outdoor entertaining. Patios are particularly useful as they can become an extension of your home's dining or living space. When your patio is directly off a dining room or living room, you can easily carry the décor and theme outside. Use the same color scheme in cushions on outdoor seating, or in overhead lights. Also, you can use the same materials, such as natural stone for flag stone floors, or natural wood. By adding a hard paved surface around a pool, you add relaxing or entertaining space.
Middlesex County Exterior Renovation | Retaining Walls
By adding hardscaping to your property, you get to enjoy two benefits from the features you add. These additions are beautiful to look at, but also serve distinct purposes. An exterior renovation company can install not only useful patios and walks and drives, but retaining walls. Retaining walls are a stunning feature to any property, but they serve to retain soil on steep slopes. Erosion can be a real threat to your landscaping, especially when the grade is very steep. Adding a retaining wall is a decorative way to prevent erosion which can wash away small shrubs and other flora.
Middlesex County Exterior Renovation | Advantages of Hardscaping
One of the main reasons to add hardscaping is that it is very low maintenance. Unlike lawns and other grassy areas that need constant feeding, cutting and weeding, hardscaped areas are very easy to maintain. The natural stones that make up areas like patios and walkways are naturally durable and long lasting. Because hardscaped areas are so durable, they are a worthwhile investment. You and your family will enjoy the benefits of these outdoor features for many years to come. Also, they increase your home's living and entertaining space, and these beautiful focal points enhance your home's curb appeal.
Because your home is your biggest investment, as well as your favorite place to be, it deserves the best. When you add elements to your property such as patios, decorative walkways and retaining walls, you are combining practicality with aesthetics. Paved walkways are easy to care for, and can keep pedestrians safe and away from lawns and flower beds. Retaining walls have many practical purposes, as they can retain soil and define different areas of your property. You can use them on steep slopes to prevent soil erosion. Patios and pool areas make a beautiful statement as well as providing extra dining and seating space. Entertaining outside is one of life's simple pleasures, but it can still be luxurious and elegant. To add any hardscaping features to your property, contact a Middlesex County exterior renovation company today.
Union County Mold Removal Contractor
Does Your Attic Need Additional Ventilation?
Duke University Students Raise Concerns About Toxic Mold
Choosing Moisture-Resistant Building Materials for Your Home
How Can Mold Affect Your Home's Resale Value?
Common Causes of Household Mold
Preventing Moisture From Penetrating Your Home's Exterior
Beware of Mold Following a Flood
Four Reasons to Keep Your Roof Clean
Common Symptoms of Toxic Mold Exposure
Is it Time to Update Your Home's Plumbing?
Spring Moisture Mitigation Checklist
Is it Time to Update Your Home's Plumbing?
5 Ways to Minimize Moisture in Your Basement
Roof Repair and Cleaning – Make Sure You're Protected
Health Risks Associated with Household Mold
Mold versus Mildew: Understanding the Difference
Venting About Vents: Now's the Time to Check!
Get Rid of Mold for Good with Professional Mold Remediation
Middlesex County Basement Wall Crack Sealing
Middlesex County Mold Consulting
Union County Basement Wall Crack Sealing
Middlesex County Exterior Renovation
Middlesex County Bathroom Remodeling