Thinking of adding Passaic County Fences to your home? A fence around your home adds value and security. Here are a few benefits of why fence services to your home is important.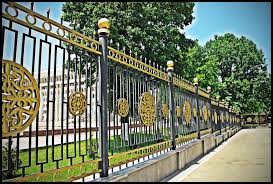 Passaic County Fences | Security
A well-built and well-maintained privacy fence will increase your home's resale value. A privacy fence provides a layer of protection from strangers coming into your yard. With a privacy fence your fears of being invaded are greatly reduced. To prevent any people trespassing on your property a fence would be the answer. Fences act as a blockage to intruders and helps to keep your possessions safe. A fence can block recreational fixtures from sight and discourage other kids from harming themselves by playing with the equipment without supervision. The increased security you add when adding a fence protects the inside and outside of your home.
Passaic County Fences | Privacy
A privacy fence allows you to have gatherings with friends and family privately. It is much easier to keep a good neighbor relation with a privacy fence.  It provides a boundary for your outdoor living so you can enjoy your area without the neighborhood looking in. Having a pool or outdoor equipment can be safe and protected with a fence around your entire property. A privacy fence keeps potential outsiders from coming in uninvited. A privacy fence is especially beneficial for modern designed homes. A homeowner can install blinds and fabric window treatment to their home providing some privacy. Where a fence provides privacy without covering the interior glass. Additional shrubs and hedges can be planted for additional privacy besides the fence.
Passaic County Fences | Pet Safety
A privacy fence keeps unwanted animals from coming inside your property. Keeping stray animals from wandering into your yard and doing damage to your property is important. When your pets go outside you want peace of mind that they are protected. No harm from other animals or people can come to them when you have a privacy and protected fence. Pet owners know how upsetting it is to lose a pet. An added fence allows the dog to roam around freely in the entire backyard. This is also good exercise for the pet.
Passaic County Fences | Added Beauty
A fence around your home gives a sense of completion to your landscape. A fence gives a completed beauty to a home. There are many different types of fences to choose from. Different materials include wood, iron and wire. Fences also differ in shape and spacing. The maintenance of the fence varies with the type of fence a homeowner chooses. With a wooden privacy fence the required maintenance is minimal. With a couple of coats of varnish on the wood, it will keep the wood safe from any elements. There are many reasons why a homeowner makes a decision to install a fence around their home. All fences require some type of upkeep. The benefit offsets the work involved. This is especially true if the homeowner has children and pets and wants safety and privacy. The beauty of your home can change with the right fence around it.
Searching for the best Passaic County Fences? Contact Jun's Pro Services today! We are a family owned and operated company. Our goal has always been to put honesty and the needs of our customers ahead of profit. Give us a call today to help you protect your home and family. We only use the highest quality materials in the market. We will help you decide which is the best fence for your home design and needs. Our main priority is to provide you with the best exterior or interior renovations that you need to make your home safe. Call us today!
Bergen County Kitchen Remodeling
Passaic County Kitchen Remodeling
Passaic County Basement Remodeling
Union County Mold Removal Contractor
Does Your Attic Need Additional Ventilation?
Duke University Students Raise Concerns About Toxic Mold
Choosing Moisture-Resistant Building Materials for Your Home
How Can Mold Affect Your Home's Resale Value?
Common Causes of Household Mold
Preventing Moisture From Penetrating Your Home's Exterior
Beware of Mold Following a Flood
Four Reasons to Keep Your Roof Clean
Common Symptoms of Toxic Mold Exposure
Is it Time to Update Your Home's Plumbing?
Spring Moisture Mitigation Checklist
Is it Time to Update Your Home's Plumbing?
5 Ways to Minimize Moisture in Your Basement
Roof Repair and Cleaning – Make Sure You're Protected
Health Risks Associated with Household Mold
Mold versus Mildew: Understanding the Difference
Venting About Vents: Now's the Time to Check!
Get Rid of Mold for Good with Professional Mold Remediation
Middlesex County Basement Wall Crack Sealing
Middlesex County Mold Consulting
Union County Basement Wall Crack Sealing
Middlesex County Exterior Renovation
Union County Exterior Renovations