Are you wondering what a Bergen County Kitchen Remodeling would do for your home? Renovating a kitchen adds more value to your home. Getting professional services to help with the remodeling is beneficial. The kitchen is the place where guests and family meet the most. With a kitchen renovation, you will get a return on your investment. There are several benefits in remodeling your kitchen.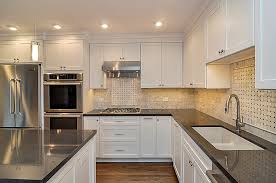 Bergen County Kitchen Remodeling | Increased Use of Your Kitchen
There are many different types of renovations that can be done to your kitchen. For example, adding more cabinets and storage space can make room for more appliances and added features. Above all, the newer appliances have updated technology and are easier to use. As a result, they also prevent any fire hazard from happening.
Bergen County Kitchen Remodeling | Savings
A good way to save on your energy bills is to get new and updated appliances. Some new features for your kitchen include water saving faucets, stronger countertops, easy to manage cabinets and protective floors. Nowadays, homeowners are interested more and more in going green. A great way to start going green is to add energy efficient kitchen appliances and features to your kitchen.
Bergen County Kitchen Remodeling | New Look and Feel
When updating your kitchen's backsplash can make a world of difference in your kitchen. It is one of the easiest and cost-effective ways to give your kitchen an updated look. Kitchen designers are professionals that are up to date with all the new trends and costs of remodeling. They may be able to get discounts for the homeowner on fixtures and other kitchen products. The look and feel of your kitchen should be noticeable and inviting. Therefore, updating the look of your kitchen could be simple. With a beautifully newly remodeled kitchen, you will want to entertain more and more. Most importantly, your kitchen is the heart of your home. As a result, it should be heartwarming and inviting.
Bergen County Kitchen Remodeling | Safety
Whenever you are remodeling a kitchen, it always means safety is priority. Adding the right lighting is important especially for the person cooking in the kitchen. It is important to have enough light to properly work in the kitchen and not get injured. Having slip resistant flooring installed is smart. When a floor gets wet which can happen often in a kitchen, the floor can be slippery. As a result, when a floor is slippery it can be dangerous. A professional would know what flooring is best to prevent anyone falling and hurting themselves. When remodeling a kitchen, a professional will make a space to add a fire extinguisher. As a result, it should be easy access and in an area that is reachable in the event of an emergency.
Bergen County Kitchen Remodeling | Increase in Value
As a result, the value of your home will increase when you start remodeling your kitchen. Remodeling a kitchen takes time and expert advice. With a professional designing and building company, you can be sure that your kitchen will be as you desire. But there is a lot involved in remodeling any part of your home. Things have to be looked at in every angle. It needs to be done right from the beginning. The right appliances need to be ordered and installed. New cabinets and floors need to be added. In conclusion, all the features that makes your home safe and makes your home a green environment is important.
Searching for the best Bergen County Kitchen Remodeling company? Give Jun's Pro Services a call today. Jun's Pro Services is a company that puts their customers first. Not to mention, our main goal has always been to put honesty and the needs of our customers ahead of profit no matter what. We have an experienced and creative staff. We will design and build the kitchen and home of your dreams and make it reality. Call us today!
Bergen County Exterior Renovations
Passaic County Kitchen Remodeling
Passaic County Basement Remodeling
Union County Mold Removal Contractor
Does Your Attic Need Additional Ventilation?
Duke University Students Raise Concerns About Toxic Mold
Choosing Moisture-Resistant Building Materials for Your Home
How Can Mold Affect Your Home's Resale Value?
Common Causes of Household Mold
Preventing Moisture From Penetrating Your Home's Exterior
Beware of Mold Following a Flood
Four Reasons to Keep Your Roof Clean
Common Symptoms of Toxic Mold Exposure
Is it Time to Update Your Home's Plumbing?
Spring Moisture Mitigation Checklist
Is it Time to Update Your Home's Plumbing?
5 Ways to Minimize Moisture in Your Basement
Roof Repair and Cleaning – Make Sure You're Protected
Health Risks Associated with Household Mold
Mold versus Mildew: Understanding the Difference
Venting About Vents: Now's the Time to Check!
Get Rid of Mold for Good with Professional Mold Remediation
Middlesex County Basement Wall Crack Sealing
Middlesex County Mold Consulting
Union County Basement Wall Crack Sealing
Middlesex County Exterior Renovation
Union County Exterior Renovations