Thinking of hiring Bergen County Hardscapes for your home? Whether you need Bergen County windows or additional space in your yard, Juns' Pro Services will get it done. Fixing and preparing your yard for your enjoyment and entertaining can be a hard job. Hiring a professional with ideas of what fits in your home is important. Some hardscape features are walls, decks and fire pits. Professional landscapers can build and install different items in your yard. Here are some important reasons why you should hire a professional design company to work in your yard.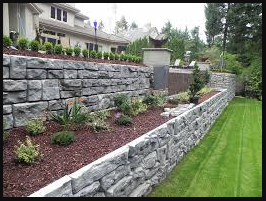 Bergen County Hardscapes | Quality Results
Whether you are thinking of adding a pool, deck or a beautiful lighting system, you need to hire a professional. You want to make sure the job is done right and built properly. By hiring a professional you can be sure that your project is handled by experts. With their experience in designing and installing a dream hardscape for your home, you can have peace of mind that they will create what you want. You can consult the design expert and explain what you would like your yard to look like. They will be able to evaluate what fits the décor of your home. They can see what works best in your space. If you have a specific feature that you would like added to your home, explain it and describe it to the designer and he will give you quality results.
Bergen County Hardscapes | Budget
Redesigning your yard can be a bit frustrating. Hardscape projects can be a bit expensive especially if you are trying to do it yourself. You may not get the results you desire. Hiring a professional designer can guarantee that you will get exactly what you want. You can at least sit down with the designer and describe what you want and how much money you have to spend. The professional designer will offer suggestions in regard to staying on budget and achieving great results.
Bergen County Hardscapes | Experience
Wiring and electrical work needed for the project can be handled by the professional. For safety purposes, an experienced professional designer can also help with all the outdoor lighting and electrical needs. Help with wiring and lighting is important.
Bergen County Hardscapes | Benefits
One of the most important benefits of hiring a professional with hardscaping is the ability to build an outdoor room and expand your living space. A full kitchen, cozy fireplace or lounge area will be perfect for entertaining guests and family. This new area increases the value of your property. It provides excellent curb appeal. Even adding an outdoor patio to your home can provide a return on your investment. Adding an outdoor fireplace can create an outdoor living space that can be used in all types of weather conditions. This is a great solution when having a large gathering that may require additional space.
Bergen County Hardscapes | More Benefits
Adding and creating new hardscape to an uneven yard can fix issues and reduce erosion. Hardscaping is a great way to help to prevent any erosion. A professional strategically places stones and barriers to prevent erosion when it rains and keep the ground stable for years to come.
Searching for the best Bergen County Hardscapes company? Jun's Pro Services is the place to contact. We are a company that puts their customers first. Our main goal has always been to put honesty and the needs of our customer ahead of profit. Our staff is the most creative and experienced in the market. We will design and build any project that you want for your home, making your dreams a reality. We have expertise creating beautiful hardscapes and adding additional spaces in your home. Give us a call today!
Bergen County Kitchen Remodeling
Passaic County Kitchen Remodeling
Passaic County Basement Remodeling
Union County Mold Removal Contractor
Does Your Attic Need Additional Ventilation?
Duke University Students Raise Concerns About Toxic Mold
Choosing Moisture-Resistant Building Materials for Your Home
How Can Mold Affect Your Home's Resale Value?
Common Causes of Household Mold
Preventing Moisture From Penetrating Your Home's Exterior
Beware of Mold Following a Flood
Four Reasons to Keep Your Roof Clean
Common Symptoms of Toxic Mold Exposure
Is it Time to Update Your Home's Plumbing?
Spring Moisture Mitigation Checklist
Is it Time to Update Your Home's Plumbing?
5 Ways to Minimize Moisture in Your Basement
Roof Repair and Cleaning – Make Sure You're Protected
Health Risks Associated with Household Mold
Mold versus Mildew: Understanding the Difference
Venting About Vents: Now's the Time to Check!
Get Rid of Mold for Good with Professional Mold Remediation
Middlesex County Basement Wall Crack Sealing
Middlesex County Mold Consulting
Union County Basement Wall Crack Sealing
Middlesex County Exterior Renovation
Union County Exterior Renovations