Basements are a very useful space in a home. When they are finished spaces, they make great playrooms and family areas. Even unfinished, they add valuable storage space. Many homeowners find basements ideal locations for laundry facilities, or even for a powder room or full bathroom. The biggest drawback to these handy areas, however, is that they are very prone to water damage. They just seem to attract water, and water attracts mold. Whether from flood waters, or rain runoff, or from broken pipes or washing machines, water in your basement is never a good thing. Because collected water attracts mold so quickly, always contact a basement cleaning professional at the first sight of unwanted moisture. Sometimes a complete renovation may be necessary due to water damage, including complete mold remediation. This removes the mold while making necessary repairs. To restore your wet basement, call a Passaic County interior renovation company.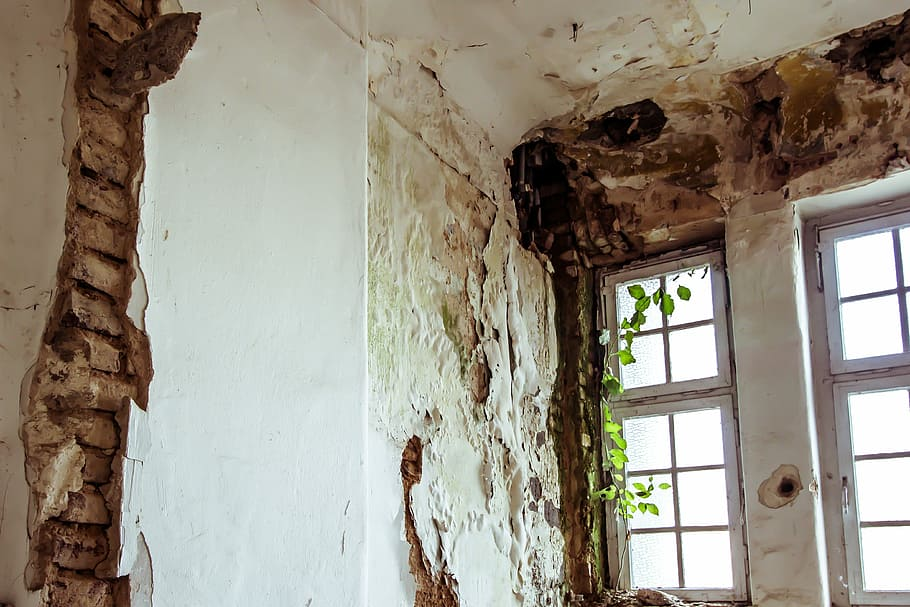 Passaic County Interior Renovation | Exterior Basement Leaks
Interior basement damage sometimes happens due to problems on the outside of your home. Exterior foundation wall cracks can cause serious damage inside. They allow water to seep in, causing damage to interior walls and floors, and encouraging mold growth. Even small exterior cracks can become problematic if left as small fissures can quickly become big ones. Periodically check the exterior walls of your property to ensure they are in good repair. Exterior cracks can cause serious damage but regular inspections of outside walls can keep interior spaces in good, dry condition. Call an interior renovation company if exterior cracks have caused damage to your home.
Passaic County Interior Renovation | Preventative Measures
As part of keeping your basement walls in good condition, make sure that excess water is not flowing along walls. To allow runoff to flow away from your home, there are some preventative measures you can take. You may not think that gutter maintenance has much to do with keeping your basement dry. But keeping gutters running clear means that excess water can flow away from the house. When unclogged gutters let water run freely it's not flowing down exterior walls where it can puddle on the ground. Ask a local professional if clogged gutters might be causing foundational damage to your home.
Passaic County Interior Renovation | Mold Remediation
If your basement does sustain water damage, from one cause or another, mold growth is very likely to occur. In the event of mold, you need to take quick action. For your own safety, and that of your property and family, always leave mold removal to an expert. It takes the right training and the right equipment to thoroughly and safely remediate mold. Professionals have industrial strength HEPA filters to ensure air quality, and equipment to test for air safety. Most importantly, though, remediation is more than mold removal. Remediation means fixing the problems that caused the mold, ensuring it won't return.
If your basement has interior damage from water or excess moisture, you need the full services of a restoration company. It is important to identify the source and repair it. Some sources of excess water are runoff or water running down walls from clogged gutters. Whatever the source, however, the result is the same, interior damage and mold growth. When this happens to your home, a full renovation and remediation company can restore and repair. They remove mold and fix the problem that caused it, and fully clean and renovate your basement space. To protect your home and family, choose only fully insured and licensed companies. Quickly get your basement clean and dry by calling a Passaic County interior renovation company that does it all.
Passaic County Retaining Walls
Union County Mold Removal Contractor
Does Your Attic Need Additional Ventilation?
Duke University Students Raise Concerns About Toxic Mold
Choosing Moisture-Resistant Building Materials for Your Home
How Can Mold Affect Your Home's Resale Value?
Common Causes of Household Mold
Preventing Moisture From Penetrating Your Home's Exterior
Beware of Mold Following a Flood
Four Reasons to Keep Your Roof Clean
Common Symptoms of Toxic Mold Exposure
Is it Time to Update Your Home's Plumbing?
Spring Moisture Mitigation Checklist
Is it Time to Update Your Home's Plumbing?
5 Ways to Minimize Moisture in Your Basement
Roof Repair and Cleaning – Make Sure You're Protected
Health Risks Associated with Household Mold
Mold versus Mildew: Understanding the Difference
Venting About Vents: Now's the Time to Check!
Get Rid of Mold for Good with Professional Mold Remediation
Middlesex County Basement Wall Crack Sealing
Middlesex County Mold Consulting
Union County Basement Wall Crack Sealing