Mold can grow anywhere in your home, but attics provide some of the best conditions for it to spread. It thrives on dark, damp, humid conditions, all of which are usually in attics. Unless your attic is a finished room for extra living space, or even storage, you probably don't go there often. This means the mold can grow there quite happily, undetected and undisturbed by anyone. Attic inspections and roof inspections go hand in hand. The condition of your roof directly affects your attic space. Experts recommend you schedule roof and attic inspections annually to check for attic mold, and roof health. To keep your attic clean and dry, contact a Middlesex County attic mold removal company for an inspection. Moisture can easily get into the attic through holes or gaps in your roof. For complete remediation, mold removal, and roof repair, call a Middlesex County attic mold specialist.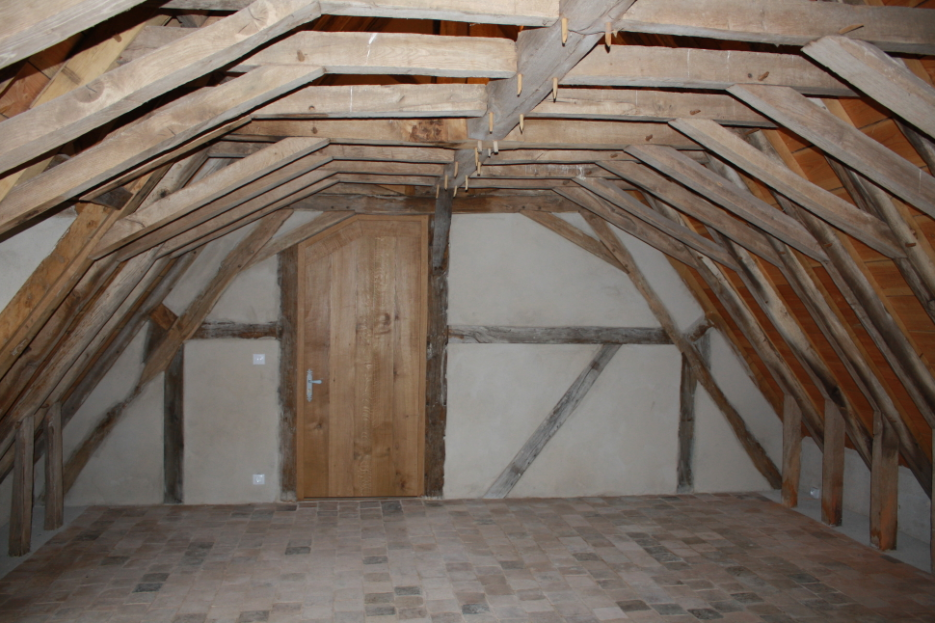 Middlesex County Attic Mold | Signs of Attic Mold
The spread of black mold colonies indicate that the mold is already growing in your attic, and needs removal. There are more subtle signs, however. Large damp patches between the attic and roof indicate moisture is getting in. Moisture and dampness are a mold colony's best friend, feeding the mold and helping it grow. In the winter, ice in attic spaces is also a sign of moisture. If left untreated, attic moisture can even extend to the ceilings of rooms below, spreading mold to living spaces. Damp insulation in your attic space can breed mold, and ruined boxes or soft wood can lead to its spread.
Middlesex County Attic Mold | Inadequate Ventilation
You don't have to try and go all the way into the attic to check for mold. If you smell mildew, damp and humidity at the entrance, chances are that you have mold. Attics with unpleasant, stuffy, musty smells probably already have a moisture problem. Inadequate ventilation means that warm air is not escaping from your attic space. Sometimes insulation blocks roof vents, preventing air from escaping outside. Maybe your attic never had enough ventilation, because you don't have an adequate amount of vents for the space. When poor ventilation is causing mold, call an attic mold remediation company to remove the mold and install adequate vents.
Middlesex County Attic Mold | Mold Remediation
Having mold is never a good thing, and you need to remove it as soon as possible. Attic mold can spread down to rooms below, and compromise eaves and soffits. To remove it thoroughly, you need a remediation company. Leave attic mold removal to the professionals, as attics can be unsafe, especially when damp. They have the training and tools to fully and safely remove mold. Also, if it proves that a leaky roof or poor ventilation are the cause, they can fix the problem. Mold removal and remediation companies remove mold, and make any repairs to make sure it won't come back.
Attics are typically prone to mold, which can spread to rooms below if untreated. Most homeowners rarely go into attic spaces, so mold can grow undisturbed and undiscovered. Often, mold is the result of a leaking roof, or poor ventilation. Trapped, warm air can promote mold growth. To remove mold, and fully repair any problems in roofing or roof vents, call a remediation company. With experience in mold removal, and the right training and equipment, they can perform the work thoroughly and safely. If you're unsure what you're doing, you can spread mold spores around, and attic work is dangerous. For safe mold removal, and to repair its cause, you need the services of a Middlesex County attic mold company.
Union County Mold Removal Contractor
Does Your Attic Need Additional Ventilation?
Duke University Students Raise Concerns About Toxic Mold
Choosing Moisture-Resistant Building Materials for Your Home
How Can Mold Affect Your Home's Resale Value?
Common Causes of Household Mold
Preventing Moisture From Penetrating Your Home's Exterior
Beware of Mold Following a Flood
Four Reasons to Keep Your Roof Clean
Common Symptoms of Toxic Mold Exposure
Is it Time to Update Your Home's Plumbing?
Spring Moisture Mitigation Checklist
Is it Time to Update Your Home's Plumbing?
5 Ways to Minimize Moisture in Your Basement
Roof Repair and Cleaning – Make Sure You're Protected
Health Risks Associated with Household Mold
Mold versus Mildew: Understanding the Difference
Venting About Vents: Now's the Time to Check!
Get Rid of Mold for Good with Professional Mold Remediation
Middlesex County Basement Wall Crack Sealing
Middlesex County Mold Consulting
Union County Basement Wall Crack Sealing