The weather is slowly getting warmer, and soon most people will be turning their thoughts to backyard entertaining. If you would like more space to entertain outdoors, consider adding a patio to your yard. A patio makes an ideal space to cook and to gather friends and family. Outdoor kitchens are a growing trend with many homeowners, and a patio makes an ideal place to install one. Because patios come in so many shapes, colors and style of material, the design choices are endless. Installing a patio, however, is not an easy project, so make sure to call a professional. By hiring a company that offers patio installation among its services, you can be sure of a quality outdoor space. Hiring a professional not only makes the project less stressful, it will go more quickly. Call a Passaic County patios company to help you get the outdoor space you've always wanted.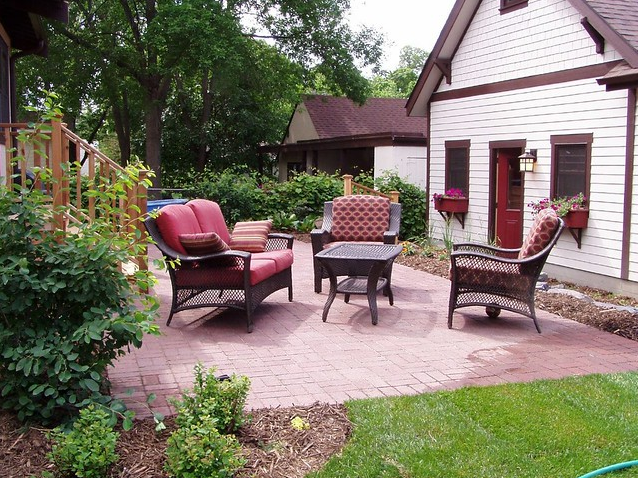 Passaic County Patios | Extended Living Space
Just about everyone could use a little more space, and that is exactly what happens when you install a patio. It becomes an extension of your home. You now have more space to cook, and to hold family gatherings. Host friends and family on the warm summer weekends without everyone crowding into the kitchen. The kitchen can now be outdoors and everything can be more accessible. Either with a simple barbecue, or an outdoor kitchen complete with sink and fridge, you can take the party outside. By adding plenty of seating, and big tables with a beautiful umbrella, eating outside becomes comfortable and fun.
Passaic County Patios | Design Choices
When you add a patio, you are adding more space to cook and entertain. When planning your patio, therefore, you should take into account your home's decor and design style. Also, consider natural materials you already have in your home, such as woods and stone or tile. With so many design choices, it is easy to complement these existing features when deciding on the patio paving materials. Don't forget the seating and furnishings once the completed patio is ready. You may want to extend your home's existing color scheme. Or you could use this opportunity to get a little adventurous with color, and add some mix and match cushions.
Passaic County Patios | Adding Greenery
Because your new patio is level with the rest of the yard, it is easy to incorporate landscaping. You can design the space to blend with existing plants, so it feels more finished and complements the existing landscaping. Another advantage to adding greenery is that by adding the right plants, you can create privacy, or deter bugs. Adding beds to border your patio adds pops of color and some plants can keep away pesky mosquitoes. Some plants to add are lemongrass, lavender, marigolds and chrysanthemums. These look and smell wonderful while making your space more enjoyable. Planting tall grasses and shrubs can add privacy while adding beauty to your yard.
Adding a patio to your backyard has so many advantages. One of the greatest advantages to adding a patio, is how easy it is to maintain the space. It also adds often much needed cooking and entertaining space. You can add an outdoor kitchen, or simply a barbecue grill for hot dogs or burgers. In the long summer evenings, gather the family around for some fun times and some fresh air. With so many design choices of materials, your patio will feel and serve as an extension of your home. When designing your patio, don't forget furniture, seating and even lighting and landscaping. Add some much needed space this summer by calling a Passaic County patios company.
Passaic County Retaining Walls
Union County Mold Removal Contractor
Does Your Attic Need Additional Ventilation?
Duke University Students Raise Concerns About Toxic Mold
Choosing Moisture-Resistant Building Materials for Your Home
How Can Mold Affect Your Home's Resale Value?
Common Causes of Household Mold
Preventing Moisture From Penetrating Your Home's Exterior
Beware of Mold Following a Flood
Four Reasons to Keep Your Roof Clean
Common Symptoms of Toxic Mold Exposure
Is it Time to Update Your Home's Plumbing?
Spring Moisture Mitigation Checklist
Is it Time to Update Your Home's Plumbing?
5 Ways to Minimize Moisture in Your Basement
Roof Repair and Cleaning – Make Sure You're Protected
Health Risks Associated with Household Mold
Mold versus Mildew: Understanding the Difference
Venting About Vents: Now's the Time to Check!
Get Rid of Mold for Good with Professional Mold Remediation
Middlesex County Basement Wall Crack Sealing
Middlesex County Mold Consulting
Union County Basement Wall Crack Sealing