If you are unfortunate enough to have mold growing in your home, you know quick action is necessary. Mold and mildew left untreated can quickly spread, so it is necessary to call a mold remediation professional. After a complete and through mold removal and cleaning process, it is time to restore your home. When you contract a mold remediation company, they safely remove mold, fix the cause, and fully renovate the space. To restore your home after water damage has caused mold and mildew, call a Middlesex County interior renovation company. Putting your home back together after mold removal may be the final step, but is by no means the least important. A qualified mold remediation contractor can restore flooring and carpeting, and install and paint new drywall for finished walls. For a complete professional renovation of your home after mold removal, you need a Middlesex County interior remodel contractor.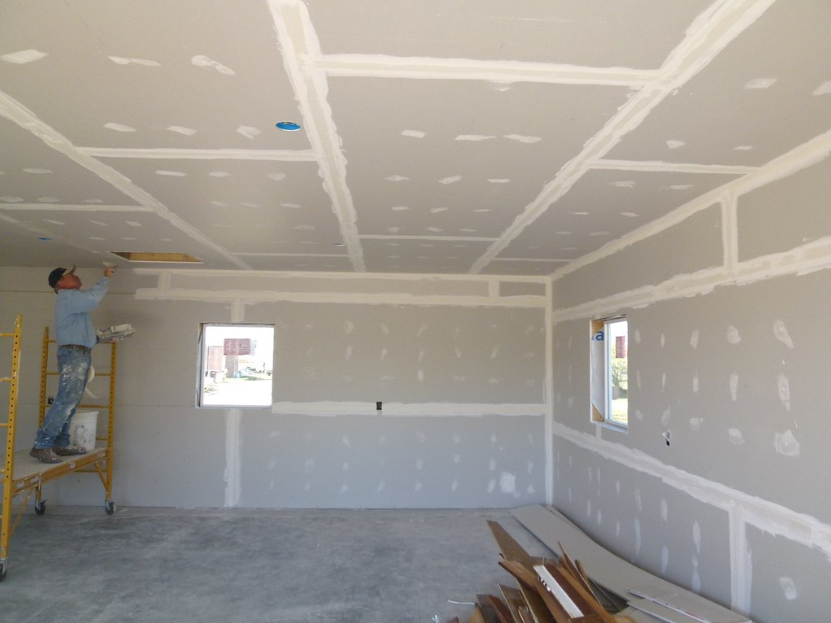 Middlesex County Interior Remodel | Mold Removal
Mold in your home is not unsightly and unpleasant to look at, it can be very unhealthy for your family. If your home has mold, you need to get rid of it quickly. It is always best to leave mold removal to the professionals, as they can remove it safely and completely. With proper training and equipment, they can remove the mold without spreading it further. Professionals can also remove any contaminated materials safely from your home and dispose of them for you. Save time and stress by using one company to remove mold and perform any necessary interior remodel afterwards.
Middlesex County Interior Remodel | The Remediation Process
When you choose a company to remove the mold from your home, make sure to find one that fully remediates. The remediation process means doing more than just removing mold, although that is an important step. It means finding the cause of the mold, and fixing it to prevent it happening again. Mold in your home is the result of excess moisture, whether it collects slowly or from catastrophic flooding. Cracks in walls and poor ventilation often result in excess moisture which then lead to mold. These causes of excess moisture need addressing and repairing before any interior remodel can begin.
Middlesex County Interior Remodel | Time for Renovation
If the mold growth in your home is extensive, it may be necessary to remove the infected materials. Items like carpeting and sheetrock can spread mold if not removed. Carpeting not only has the potential to grow mold, but it can also develop unseen on sub flooring and carpet underlay. This means that all carpeting materials will need replacing. In some cases, the mold develops on interior walls, resulting in the removal of parts of drywall. Your mold remediation company can restore any structure as necessary. The finishing touches of your interior remodel from carpet to paint are the final steps of restoring your home.
Mold growth in your home can be very unpleasant to deal with. If left untreated, it can quickly spread and take over your home. You should leave mold removal to the professionals, however. Without the right training and equipment, you might actually spread it around more. Professionals have strong HEPA filters that clean the air as they clean the mold. As part of the remediation process, it is also important to identify and fix the cause of the mold. Even small cracks in your foundation and basement walls can allow in moisture that will encourage mold. Poorly ventilated basements and attic also allow moisture to seep into your home. After mold removal and remediation, your local Middlesex County interior remodel experts restore your home.
Union County Mold Removal Contractor
Does Your Attic Need Additional Ventilation?
Duke University Students Raise Concerns About Toxic Mold
Choosing Moisture-Resistant Building Materials for Your Home
How Can Mold Affect Your Home's Resale Value?
Common Causes of Household Mold
Preventing Moisture From Penetrating Your Home's Exterior
Beware of Mold Following a Flood
Four Reasons to Keep Your Roof Clean
Common Symptoms of Toxic Mold Exposure
Is it Time to Update Your Home's Plumbing?
Spring Moisture Mitigation Checklist
Is it Time to Update Your Home's Plumbing?
5 Ways to Minimize Moisture in Your Basement
Roof Repair and Cleaning – Make Sure You're Protected
Health Risks Associated with Household Mold
Mold versus Mildew: Understanding the Difference
Venting About Vents: Now's the Time to Check!
Get Rid of Mold for Good with Professional Mold Remediation
Middlesex County Basement Wall Crack Sealing
Middlesex County Mold Consulting
Union County Basement Wall Crack Sealing
Middlesex County Exterior Renovation