Thinking of having your Union County Patios cleaned professionally? You may need a Union County mold removal service for your patio. A patio is a paved area that is outside of your home. There are many benefits that a patio gives to a homeowner. Having your patio professionally cleaned and maintained is important. Here are some advantages of having a patio cleaned by a technician.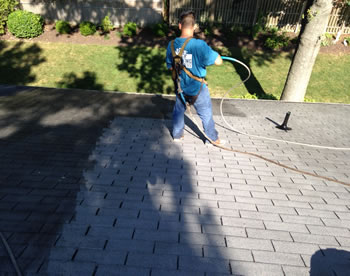 Union County Patios | Great Place to Relax
A patio is where most homeowners with their friends and families sit back to relax, especially when there is good weather outside. It allows them to enjoy the fresh air outside without being hit with the scorching sun. You can even add a fireplace to your patio so that you can enjoy it during all seasons. It is extremely important to have your patio cleaned occasionally, to make it a safe clean place for you and your family.
Union County Patios | Great Entertainment Area
Another benefit why it is important to have a clean patio is because of all the things you can do there. It is a great entertainment area for family and guests. A nice and clean patio provides a great outdoor area to have a family get-together. Adding a clean patio to your home can increase the value of your home. When people want to purchase a home, a clean and well-kept patio and entertainment area can be the main selling point of the home. Therefore, clean patios offer numerous benefits.
Union County Patios | Protection Against Accidents
A patio that needs to be cleaned and maintained can have uneven pavers with moss and mold growing. If a patio is not cleaned it can create slippery areas causing accidents. Having your patio cleaned professionally will give you peace of mind that you, your family and guests are safe and can enjoy the outdoors. Also, when an area has mold and mildew growth, it can result with allergies and illnesses. Therefore, properly removing these bacteria particles can make a difference to your health and the health of all your family. Before having your patio professionally cleaned, you may have noticed mold, mildew and moss growing in between the pavers. A professional will treat these areas to prevent them from coming back. They use safe and effective products to treat these areas properly.
Union County Patios | Cleanliness
Professional pressure washing a patio area can safely remove any debris, dirt, mold and mildew from around the area. It removes signs of weathering and replaces the original color of the patio. Some wood patios may look a little different after being washed, but at least you know it is clean. Some patios made of brick or tile become uneven because of the lack of regular pressure washing. If they are not regularly washed, dirt is collected and weed grows pushing the concrete or brick apart. Pressure washing your patio will give it a facelift. As part of your home improvement schedule, a patio needs to be included and cleaned as you would clean your home. As a result, having all stains and dirt off of concrete keeps it looking as good as new.
Searching for the best Union County Patios cleaning service? Contact Jun's Mold Remediation company! We are the most trusted New Jersey mold remediation company in the state. We are able to remove the mold from inside or outside of your home. Trust Jun's Mold Remediation company for all your mold mediations and cleaning needs. We identify the cause of the mold, fix the problem so it doesn't come back and remove the mold for good! We provide many services along with our mold remediation. Give us a call today at 908-322-1533 and let us make your home safe!
Passaic County Interior Renovation
Union County Mold Removal Contractor
Does Your Attic Need Additional Ventilation?
Duke University Students Raise Concerns About Toxic Mold
Choosing Moisture-Resistant Building Materials for Your Home
How Can Mold Affect Your Home's Resale Value?
Common Causes of Household Mold
Preventing Moisture From Penetrating Your Home's Exterior
Beware of Mold Following a Flood
Four Reasons to Keep Your Roof Clean
Common Symptoms of Toxic Mold Exposure
Is it Time to Update Your Home's Plumbing?
Spring Moisture Mitigation Checklist
Is it Time to Update Your Home's Plumbing?
5 Ways to Minimize Moisture in Your Basement
Roof Repair and Cleaning – Make Sure You're Protected
Health Risks Associated with Household Mold
Mold versus Mildew: Understanding the Difference
Venting About Vents: Now's the Time to Check!
Get Rid of Mold for Good with Professional Mold Remediation
Middlesex County Basement Wall Crack Sealing
Middlesex County Mold Consulting