For mold removal and remediation, you should always contact a professional. While you can see some level of mold damage, they have the training and equipment to find mold hidden from sight. They also have the necessary equipment to remove mold completely, and safely. Mold does not only look unsightly, it can become detrimental to your home, your health, and that of your family. Mold remediation is more than just the process of removing mold from your home, it also prevents further future growth. Home owners know that mold removal is, of course, a good thing, and what you want, but there is more to it. When you hire the right company that specializes in remediation, they work to discover the cause of the mold. When you fix the problem, and its cause, you fix it so that mold doesn't come back. For complete assessment, repairs and treatment, contact a Springfield mold remediation company.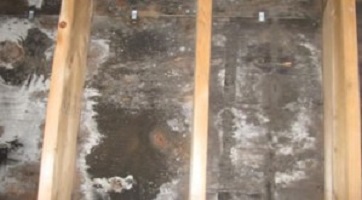 Springfield Mold Remediation | The Right Tools for the Job
When you hire a professional remediation company, they have equipment available to them that most homeowners do not. From identifying the amount of mold, and its location, to repairs, removal and clean up, they have the right tools. They have the necessary equipment to test air quality, and pinpoint the exact locations of mold colonies. Once they have located the colonies, a professional remediation company carefully and completely removes mold. They use negative air scrubbers, which not only clean the mold, but contain it, preventing further spread. Leave mold remediation to the professionals, they are equipped to do it right.
Springfield Mold Remediation | Fix the Problem at the Source
While removing mold is obviously an important step, it's not the only step. If you don't identify the source of the mold, it's like putting on a bandage instead of finding a cure. A remediation company not only identifies the source, they actually repair it as part of the process. It does a homeowner no good to know that a ceiling leak, or crack in the basement wall is the cause. You also have to do something about it. Leaks and cracks allow moisture to seep in, or in extreme cases, flood in. Fix the problem and prevent further mold.
Springfield Mold Remediation | Clean Up Crew
By hiring a professional remediation company, you can ensure a safe and thorough clean up after removal. Severe mold growth can hide in walls and under layers of carpeting. Mold can develop in attics and basements. When it grows in places hidden to the naked eye, it sometimes means removing carpeting or even dry wall. When you try to carry moldy carpeting or materials out of the house yourself, you can unintentionally create more problems. Without experience or the right equipment, you can cause more mold to spread. Problem areas need isolating, and moldy materials need proper removal and disposal.
Mold spores are everywhere, and it only takes a small amount of unwanted moisture to allow mold to grow. Once it takes hold, it quickly develops to unhealthy levels. The sooner you act, the better. If left unchecked, mold growth will only get worse. You need the services of a professional to safely remove the problem and restore your home. When you are searching for remediation companies, don't be afraid to ask for an estimate. Hire a company that deals in remediation, as well as removal. Fix the problem at the source, and remove the cycle of unwanted moisture in your home. You need to identify the source, make any necessary repairs, and remove the mold that resulted. You need the expert services of a Springfield mold remediation company.
Related Posts:
Union County Mold Removal Contractor
Scotch Plains Mold Remediation
Does Your Attic Need Additional Ventilation?
Duke University Students Raise Concerns About Toxic Mold
Choosing Moisture-Resistant Building Materials for Your Home
How Can Mold Affect Your Home's Resale Value?
Common Causes of Household Mold
Preventing Moisture From Penetrating Your Home's Exterior
Beware of Mold Following a Flood
Four Reasons to Keep Your Roof Clean
Common Symptoms of Toxic Mold Exposure
Is it Time to Update Your Home's Plumbing?
Spring Moisture Mitigation Checklist
Is it Time to Update Your Home's Plumbing?
5 Ways to Minimize Moisture in Your Basement
Roof Repair and Cleaning – Make Sure You're Protected
Health Risks Associated with Household Mold
Mold versus Mildew: Understanding the Difference
Venting About Vents: Now's the Time to Check!
Get Rid of Mold for Good with Professional Mold Remediation