Union County Attic Mold Removal. Wondering if you may have some mold that needs to be removed in the attic? A mold inspection testing may be needed. Before any mold is removed, it is very important to understand the cause and where it is coming from. That way, you can make sure that the mold problem will not return. Most cases, mold is caused because of roof issues. The causes of most attic mold issues are far more delicate and harder to identify. You cannot have a mold issue without a moisture issue. It is critical that you have a trained professional come and identify the source of the moisture issue happening in your home otherwise, mold will return when moisture returns. There are a few reasons why mold grows in an attic and it should be taken care of as quickly as possible. Let us look at each one to be able to build a preventative plan to prevent mold from coming back again.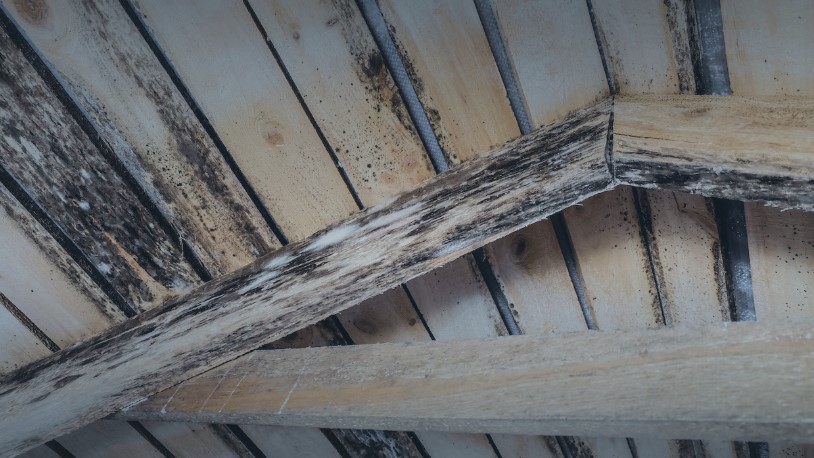 Union County Attic Mold Removal | Leaks from the Roof
Any roof leaking will lead to attic mold. When there is discoloration in the wood or insulation there could be a leak. For roofs that are joined on an angle or roof valleys, these are susceptible to roof leaks. Attic windows are also an issue with moisture problems which lead to attic mold. Make sure that there are no leaks coming from and around the attic plumbing. A professional experienced technician can evaluate and inspect all these areas on the roof to make sure no mold is growing in the attic because of the roof.
Union County Attic Mold Removal | Ventilation
Poor or incorrect ventilation in an attic will cause mold to grow. Air travels up to the attic. Any activity in the home such as cooking, bathing or showering will produce moisture that will travel to the attic and therefore cause mold to grow. With bad ventilation the moisture gets trapped in the attic and encourages mold to become a problem. Vents should not be covered. Covering your vents can encourage moisture to buildup and increase the growth of mold in the attic.
Union County Attic Mold Removal | Exhaust
Some structures of a home can have vents or exhaust fans going back into a home instead of out of the home as it should. Dry vents, bathroom and kitchen exhaust fans should be designed to take the moisture out of the home. Always make sure it does not go into the attic. A professional can inspect this, if it is not going out of the home, have a professional redesign and change the structure of the exhaust fans to pump moisture out of the home.
Looking for the best Union County Attic Mold Removal company? Jun's Mold Remediation is the place to call. Mold does not have to be a permanent issue. We tell our customers, please do not panic if you see mold, let's find the cause and get it out permanently so it doesn't grow back. Jun's Mold Remediation has helped many home and business owners clean their roofs and make sure that all mold growth is removed. As a certified roof cleaning and mold remediation company, we stay on top of the latest trends and equipment in the industry to make sure we give your roof the clean it needs. Our specialty is in water and mold damage restoration. We are highly trained in mold remediation and water damage repair. Our goal is to protect the investment you have made in your home. We make sure that your roof keeps its functional value for many years. Give us a call today! You will be glad you did!
Union County Mold Removal Contractor
Does Your Attic Need Additional Ventilation?
Duke University Students Raise Concerns About Toxic Mold
Choosing Moisture-Resistant Building Materials for Your Home
How Can Mold Affect Your Home's Resale Value?
Common Causes of Household Mold
Preventing Moisture From Penetrating Your Home's Exterior
Beware of Mold Following a Flood
Four Reasons to Keep Your Roof Clean
Common Symptoms of Toxic Mold Exposure
Is it Time to Update Your Home's Plumbing?
Spring Moisture Mitigation Checklist
Is it Time to Update Your Home's Plumbing?
5 Ways to Minimize Moisture in Your Basement
Roof Repair and Cleaning – Make Sure You're Protected
Health Risks Associated with Household Mold
Mold versus Mildew: Understanding the Difference
Venting About Vents: Now's the Time to Check!
Get Rid of Mold for Good with Professional Mold Remediation