Searching for the best Union County In-Ground Downspout Repair company? Bad drainage puts your home at risk for water damage. The proper cleaning and sealing will protect your home. A proper runoff system keeps water away from the home. Having an in-ground downspout installed needs to be maintained and cleaned to prevent backup of water and not draining properly. Underground drain pipes are very common in homes. Sometimes quite a bit of debris comes down through these openings. There are many things that can be done to improve your water drainage and runoff and keep water away from your home.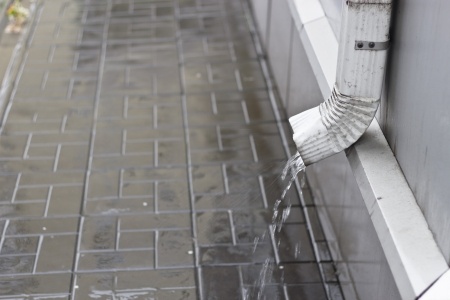 Union County In-Ground Downspout Repair | Inspect and Clear
Always have your gutters and downspout inspected and cleared regularly. Check for any loose joints and all connections in the downspout. Installing gutter guards can also prevent clogs and overflowing drains. At times the debris coming from above sits in these drain pipes and eventually become mud when it rains. It gets thicker over time until it fills the pipe and clogs it where water cannot get through. If the downspouts and drains are neglected, it can result in your home's foundation being damaged. In conclusion, a professional plumber would be able to clear it out and prevent water damage to your home.
Union County In-Ground Downspout Repair | Signs
If a downspout becomes clogged, water will definitely back up and cause damage to the foundation of your home. There are some signs that lets the homeowner know there is a clog. After a rainfall, if there is no water running through the bottom of the downspout into the ground, there could be a clog. If you are seeing water spray from the seams or downspout, there is a blockage somewhere. Professional plumbers have the experience, tools and knowledge to perform it for the homeowner. Whether it is clearing the blockage by inserting an equipment or repairing your downspout system, they will define the cause of the clog and clear it out preventing further damage to the home.
Union County In-Ground Downspout Repair | Roots
An unforeseen issue that can cause trouble in the downspout are tree roots. Because roots seek water and at times break into the underground drain pipes. Roots can cause a leak from a crack or even crush the pipes. Root invasion into these pipes will cause clogging. Having maintenance done every few months by a plumber can prevent clogging. A plumber can check to see if there is debris or roots that may be growing, remove them and keep it all clear.
Union County In-Ground Downspout Repair | Maintenance
The best way to prevent clogging from happening in the underground pipes and downspouts is maintenance. Therefore, having a professional plumber maintain your home will prevent costly issues in the future. Problems are created when gutter maintenance is ignored. Having a professional plumber inspect your downspouts and gutters regularly can prevent damage underground and the foundation of your home. An experienced plumber can also install a downspout filter to keep large debris from getting in the underground pipes. Unclogging an underground drain pipe is something that should always be done be a professional plumber.
Are you looking for a Union County In-Ground Downspout Repair company? Contact Jun's Mold Remediation right away. As a certified roof cleaning, mold remediation company, we are the tops on the latest trends and equipment in the industry to make sure we give your roof a thorough cleaning. We work hard to keep water away from your home and foundation. At Jun's Mold Remediation, we will help protect your investment and make sure that your home is safe and clear of any damage. To schedule an appointment, please contact us today!
Union County Mold Removal Contractor
Does Your Attic Need Additional Ventilation?
Duke University Students Raise Concerns About Toxic Mold
Choosing Moisture-Resistant Building Materials for Your Home
How Can Mold Affect Your Home's Resale Value?
Common Causes of Household Mold
Preventing Moisture From Penetrating Your Home's Exterior
Beware of Mold Following a Flood
Four Reasons to Keep Your Roof Clean
Common Symptoms of Toxic Mold Exposure
Is it Time to Update Your Home's Plumbing?
Spring Moisture Mitigation Checklist
Is it Time to Update Your Home's Plumbing?
5 Ways to Minimize Moisture in Your Basement
Roof Repair and Cleaning – Make Sure You're Protected
Health Risks Associated with Household Mold
Mold versus Mildew: Understanding the Difference
Venting About Vents: Now's the Time to Check!
Get Rid of Mold for Good with Professional Mold Remediation
Middlesex County Basement Wall Crack Sealing
Middlesex County Mold Consulting
Union County Basement Wall Crack Sealing