Are you looking for a professional Union County hardscape contractor to transform the look of your property? Hardscaping is a key aspect of landscaping that often gets overlooked. Most people assume hardscaping refers to big things like fire pits, patios, retaining walls, etc. While it does indeed include those things, hardscaping is really just any design element that isn't living. Benches, walkways, and strategically placed rocks are all considered hardscaping.
If you have decided to go ahead and start your hardscape project, finding the best possible Union County hardscaping contractor for the job is very important. You want someone who has the knowledge and experience to beautifully transform your yard into what you've always dreamt of. That said, not all hardscaping services in Union County, NJ will provide the quality work you deserve. There are some things to look for and do that will help you determine the right choice. Below are some tips on choosing a Union County hardscape service.
Choosing a Union County Great Hardscape Contractor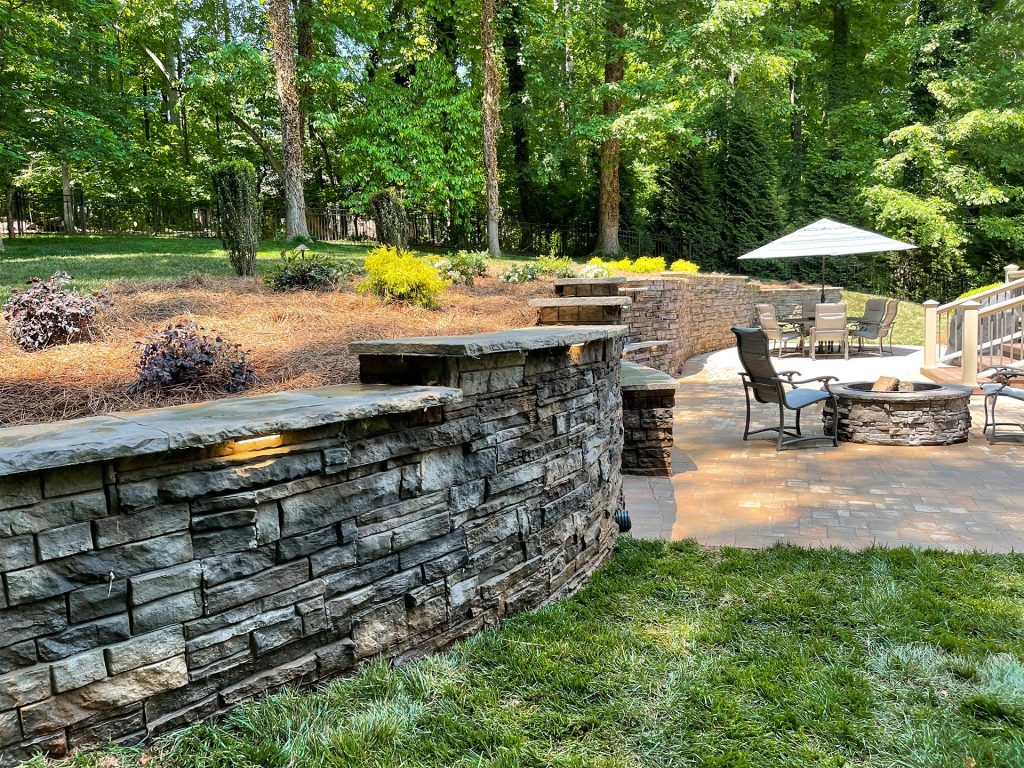 Union County Hardscaping | They Have the Proper Certifications:
Hardscaping is a specialized industry that requires specific training.Avoid hiring a hardscape contractor that does not have certification to back up his construction methods.There are two major certifications in the hardscape industry.  They pertain to patios, walkways and retaining walls.The certifications are ICPI and NCMA. Do the employees attend Techo-bloc training or similar seminars on the best hardscaping practices?
Hardscape Services in Northern NJ | Proof of Insurance & Licensing:
You certainly don't want to be liable for any damages or injuries that occur on your property.  Most hardscape contractors have coverage but it's worth checking.
Hardscapes in New Jersey | They Have the Proper Permits
Make sure to ask your hardscape contractor if a permit is required to complete your project.  Starting a project without a permit could have an unfortunate result.
Hardscape Contractor in Union County | Ask About the Design Process:
One of the most important factors of hardscaping is the design. A good hardscape design should help you maximize the space that you have within your budget. An extremely helpful design feature is 3-D design.  If a line drawing is hard for you to visualize the space, a 3-D design color rendering of your proposed hardscape design allows you to better visualize the design after installation.
NJ Hardscape Services | Questions to Ask Your Hardscape Service:
How is the excavation and sub-base preparation done?
What do you use for base material and what is the compaction process?
What type of drainage do you plan with a patio?  With retaining walls?
What type of jointing sand do you use in hardscape construction?
Hardscape Services in North Jersey | Check Their References:
A reputable Union County hardscape contractor will be happy to give you references.Look for reviews on line.Check our reviews on Google, Facebook and our website. Read the testimonials by other clients and check out Google Reviews.
North NJ Hardscaping | Get a Written Estimate & Contract:
 Never assume a verbal agreement is enough to guarantee you and your contractor are on the same page concerning the cost and plan for the work being performed in your backyard.  A written contract will protect you and your contractor from the consequences of  miscommunication and contributes in your overall satisfaction of the project.
Are You Looking for an Excellent Hardscape Contractor in the Union County, NJ Area?
Searching for the best Bergen County hardscaping company? Give Jun's Pro Services a call today! The home you are living in is the biggest investment you will ever make. When you add new and improved elements to your property, the value of your home increases. Curb appeal is extremely important. Adding stones to the exterior of your home and even in the interior, your home becomes the beautiful home you have always wanted. Let Jun's Pro Services create the home of your dreams. We serve the Union County and Northern NJ area, in towns such as: Westfield, Mountainside, Scotch Plains, Rahway, Berkeley Heights, Summit, New Providence, Springfield, and many more! For more information, you can call us at (908)322-1533, or check out our website.
Related Posts:
Bergen County Kitchen Remodeling
Passaic County Kitchen Remodeling