If you are dissatisfied with your old, impractical kitchen, remodeling it can ensure the space of your dreams. A new kitchen can make even the most mundane daily chores fresh and fun. But, before you get to create your new space, extensive planning is vital. Because it can be such a large project, and involves electricity and water, always hire a professional. Also, you get the advantage of their experience and know-how. Planning a new kitchen means getting the most out of the space, and making it workable. You do not want the layout to be impractical and frustrating. By hiring a Middlesex County interior remodel contractor, you can save time and stress. Professional contractors have the experience and training to help you through every stage from planning to completion. A Middlesex County kitchen remodeling contractor can help you plan your beautiful new space, and make it into a reality.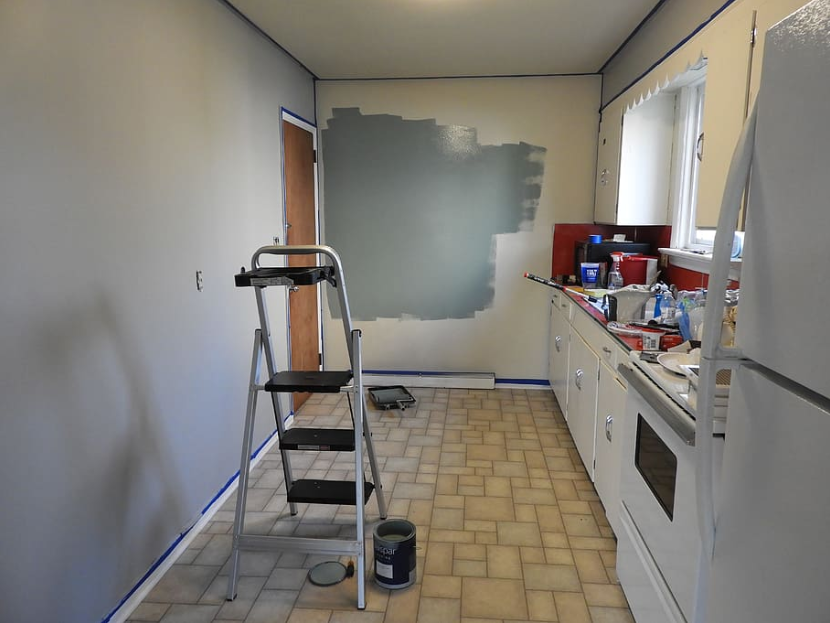 Middlesex County Kitchen Remodeling | Planning a Layout
As much as you would probably love to just jump in and get started, careful, well informed planning is crucial. You have to consider many things, and your professional contractor can help you. They can advise you on the feasibility of the project and how to stay in budget. Here, planning can help you stay on track, consider which materials you can afford, and what is essential to you. Also, you need to consider just how much space you have to work with. Your contractor can help you come up with a workable, doable layout that fulfills all your needs.
Middlesex County Kitchen Remodeling | Reconstruction
The space you have now might not be ideal for you. If you love to cook and spend lots of time in the kitchen, maybe you need a bigger space. Or maybe the layout is impractical and needs reconfiguring. Whenever you need to move walls or windows, or make your space larger, hiring a professional contractor makes it easier. They have the training and expertise to carry out all aspects of home remodeling, and they have the right tools. Trying to do a major remodel yourself could cause larger more expensive problems in the future. Stay safe and always leave a large project to the professionals.
Middlesex County Kitchen Remodeling | Design Choices
The best part of planning a kitchen remodeling project is all the design choices you get to make. You do want to take into account adjoining rooms, too, however. If your home has an open floor plan, you want your kitchen to blend in with existing décor and themes. When choosing countertops and backsplashes, keep in mind the overall style and feel your home already has. Consider existing color schemes, and get paint samples from home improvement stores to help you choose the right one. Also, take into account flooring, and how your new floor will flow with an older one.
There are many choices to make when designing a new kitchen, and lots of planning before the cabinets go in. You need to consider what you want from your new space. Maybe you need a more practical layout to save you time and steps, or perhaps you need a bigger space. Planning a layout that incorporates every element of your new kitchen can help you get what you want. With a comprehensive plan, you can visualize where everything will go, and choose everything ahead of time. This makes sure that your plan is feasible, and that it will work within your budget. Working with one company from start to finish makes the process smoother. To get the kitchen you always dreamed of, call a Middlesex County Kitchen Remodeling contractor.
Union County Mold Removal Contractor
Does Your Attic Need Additional Ventilation?
Duke University Students Raise Concerns About Toxic Mold
Choosing Moisture-Resistant Building Materials for Your Home
How Can Mold Affect Your Home's Resale Value?
Common Causes of Household Mold
Preventing Moisture From Penetrating Your Home's Exterior
Beware of Mold Following a Flood
Four Reasons to Keep Your Roof Clean
Common Symptoms of Toxic Mold Exposure
Is it Time to Update Your Home's Plumbing?
Spring Moisture Mitigation Checklist
Is it Time to Update Your Home's Plumbing?
5 Ways to Minimize Moisture in Your Basement
Roof Repair and Cleaning – Make Sure You're Protected
Health Risks Associated with Household Mold
Mold versus Mildew: Understanding the Difference
Venting About Vents: Now's the Time to Check!
Get Rid of Mold for Good with Professional Mold Remediation
Middlesex County Basement Wall Crack Sealing
Middlesex County Mold Consulting
Union County Basement Wall Crack Sealing
Middlesex County Exterior Renovation
Union County Exterior Renovations